Welcome, welcome, welcome to Meet the Brands : Part 2!
This week, we are talking about 
Accessories
(and MORE)
. That's why we're using this stunning gif of 90's celebrities wearing everyone's favorite accessory - the butterfly clip. Sure, it's become trendy again, like everything 90's. But how many butterfly clips do you think ended up in landfills?!
Unlike the butterfly clip, the brands we work with create products meant to stand the test of time and the test of trends. Scroll on to read about our timeless accessories, sound absorption, carpets, rugs, and, well, more.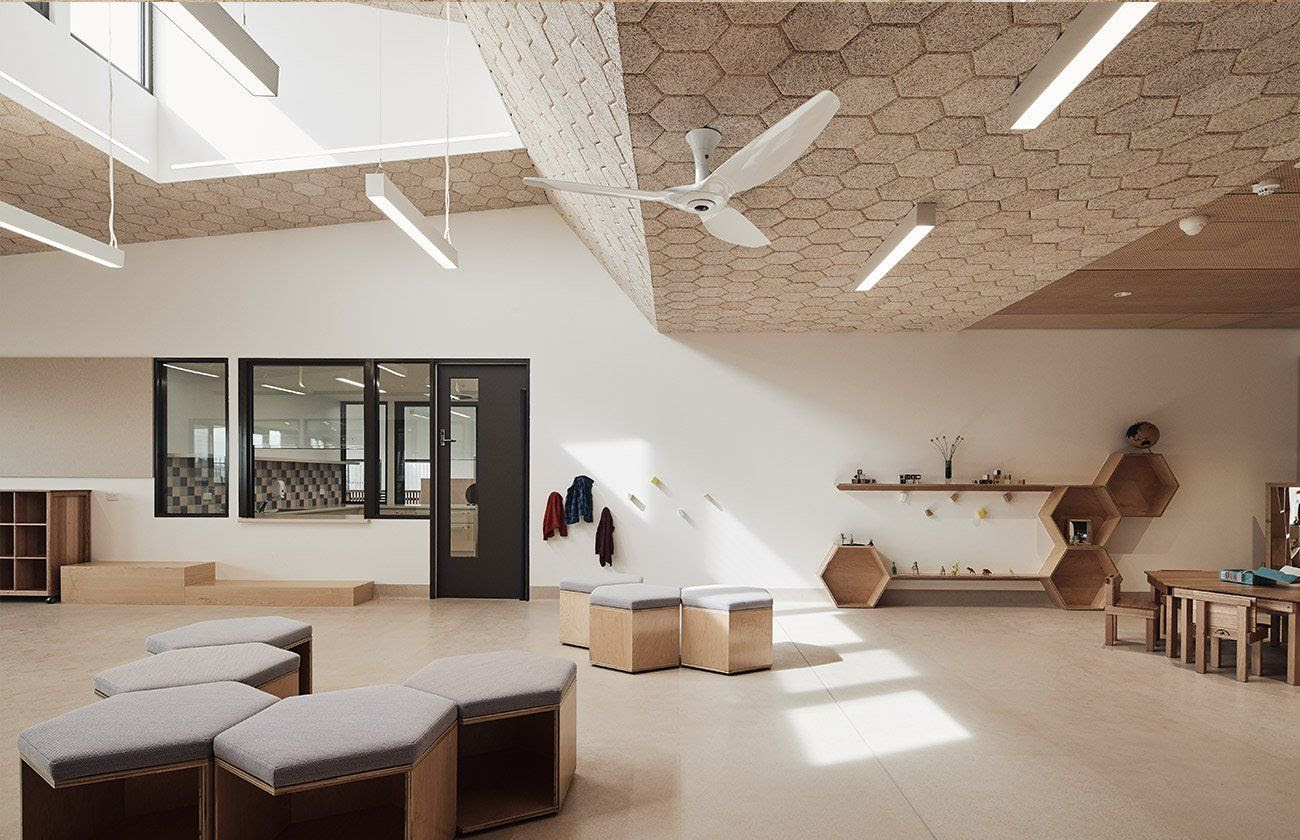 BAUX
, a sound absorption designer,
 was established in Sweden by global industrial design studio Form Us With Love back in 2013. While sustainable solutions certainly drive the company's mission, BAUX is also focused on increasing awareness about good acoustic design and the health benefits associated with proper sound absorption. Good acoustics increase productivity, facilitate learning, and reduce stress.
We love when their wood wool is used on the ceiling, like in this Aboriginal Community Center in Victoria, Australia, pictured above. That's going to look dope for a long, long time.
Debbie Bean
 is in the 8th year of running her eponymous stained glass company. We love the fresh perspective she brings to interiors through both large scale and small scale installations.
We are so excited to add 
Ege by Talk Carpets
 to our roster. Founded in Denmark in 1938, Ege is the biggest carpet manufacturer in Europe, and the owner of a Militron machine - one of only two machines that exist worldwide. 
Ege has, quite literally, thousands of designs to choose from. Whether it's customized or standard, carpets take just 7-9 weeks from PO to delivery. All rugs have a 15-year warranty and meet all of the fire ratings required in the US.
Ege is also the only carpet company to have 100% of their products cradle-to-cradle certified. 
Carpeting is basically a wall-to-wall rug, right? Well, that's been in style for centuries. And no one is mad about the insulating properties of carpeting that may even lead to a lower gas bill. 
In 2016, Ian Yang founded 
Gantri
 in San Francisco with a background in software and product design. As a small, minority-owned business, Gantri has turned into a one-of-a-kind digital manufacturing company that puts both the planet and designers first.
What's incredible about Gantri is how many different STYLES of lights there. There truly is something for everyone. Titanic fan? This 
Iceberg Table Light
 is for you. Love the theater? Check out 
The Encore Table Light
. Things you truly love never go out of style. 
Marly
 is another new addition to the DE roster, and we couldn't be more excited. Marly's self-watering planters help keep plant care simple. That's right: SELF WATERING.
How it works: Refill Marly once a month, through their patented watering ring and never forget to water, under-water or over-water again. Use one planter or employ the whole system — the choice is yours.
Sustainability story: Marly pots are made from a combination of virgin and recycled HDPE (High-Density Poly Ethylene). The pots are highly durable and can be easily recycled for a variety of applications. 
Plants are even more special in your home or office when you can keep them alive.
Nomadory
 is a women-owned small business based in San Francisco with a global reach. Founders Akta and Vrnda started their company with minds to marry commerce and technology, and in doing so, they have built out a platform that digitizes supply chains while maintaining strong relationships with suppliers. Many of their suppliers in India are small, women-owned, or family businesses. 
As a minority-owned company, Nomadory is making it possible for the interiors industry to source from small artisans in a timely, cost-effective manner while being ethical and transparent. 
Because most of the items Nomadory manufactures are handmade, you are actually receiving a piece of art in ever one, as no two will ever be exactly the same. Handmade is timeless.
Rohi
 is a textile brand that was founded in 1933. All of Rohi textiles are manufactured in wool. Why? Because wool is magical. A few quick facts…
Wool is a natural renewable raw material, and contains no chemicals.

Easy to clean (liquids pill on top of the fiber rather than absorb into the textile).

Resilient! It keep its form and is wrinkle free - it can expand up to 30% of its length and return to its original shape.
While rohi has recently begun to move into the interiors space abroad, DE is excited to be one of the first companies to represent them stateside. Each of their textile lines has anywhere from 50,000 - 120,000 double rubs. 
You can't go wrong with a textile made from happy sheep that doesn't need to be replaced.
Work in progress
 is an incredible new queer — as in both gay and weird — brand that partners with a diverse set of artists, designers, makers and manufacturers. WIP is brought to you by the team at 
Denvir Enterprises
, our sibling B2B brand.
Not only do we highlight the designers, but we'll always highlight the manufacturers. Pictured above are 
Jessica Poundstone's Rugs
 manufactured by none other than 
Nomadory
. 
Now, if you've actually read the whole newsletter, you'll know we mentioned Nomadory above. Great job! Feel free to respond to this email and request a joke. We've got some good ones.
Well, have we convinced you? Do we and our brands have the staying power that butterfly clips did not? There's only one way to find out…
Book a presentation, if you haven't already. Book one even if you have. Learn about us and our brands. There will be jokes and disco balls and so. many. puns. Your clients will thank you.
Until next time, when we talk  C U S T O M.
Warm Regards,
The DE Team