You might be wondering what these baseball players are celebrating. The World Series? NO. They are celebrating the new DE brand lineup! We've got some seasoned veterans along with newcomers that you won't want to miss. If you're wondering about the total count on our roster, well, we just rolled into 2022 with 
EIGHTEEN brands
. That's right. 1.8. 8-TEEN. We'll be downloading them here over the next few weeks so that you can upload them into your brain. Grab your scorecard as we discuss the stats this week on our power-hitting furniture brands.
First up in this alphabetical lineup is newcomer Amigooooooo Modern! 
Amigo Modern is the brainchild of designer Eric Trine. Based in Los Angeles, the studio specializes in furniture and accessories in the spirit of California Modernism. 
You can select from various chairs, tables, and stools constructed from steel, powder coated and finished with leather and/or wood. There is no MOQ for custom wood, custom RAL finishes, or COL, and only an MOQ of 10 for any size adjustments to products. 
Next up, also a returning starter and STAR, is Esaila.
Esaila is a Taiwan-based design house founded by designer Kenyon Yeh. It contains an ever-growing collection of contemporary minimalist designs consisting of furniture, lighting, and objects that work for commercial, residential, or hospitality environments.
Pictured above is @esaila's soon-to-be-released Edge Table, and we are in love. SCORE!
Third up is returning brand Fyrn. They throw a mean curveball and can hit a left handed pitcher. Do NOT sleep on this brand!
Fyrn chairs, stools, and tables are the result of a lifelong love for craftsmanship and woodworking. Fyrn's products are designed to be put together in a system of parts and pieces, not only streamlining manufacturing but also allowing for pieces to be replaced if needed (this is almost never needed).
***Pictured above is Fyrn's latest release - their nesting side tables. If these are perfect for your project, here are the stats: Right now, lead times are 8-12 weeks. Finishes currently available are Maple and Black Walnut in wood, and Matte Silver and Copper Bronze in the brackets. 
Anddddd now stepping up to the plate is international first round draft pick Mexaaaa!
Mexa is woman-owned company comprised of a team of passionate creatives based in Guadalajara, Mexico. All of Mexa's products are proudly handmade in their factory there, making each piece unique. Working with bases in steel and materials like Natural Palm, PVC, Fabric Cords and Leather, you'll be sure to find the indoor and outdoor solutions you are seeking in one of their many collections.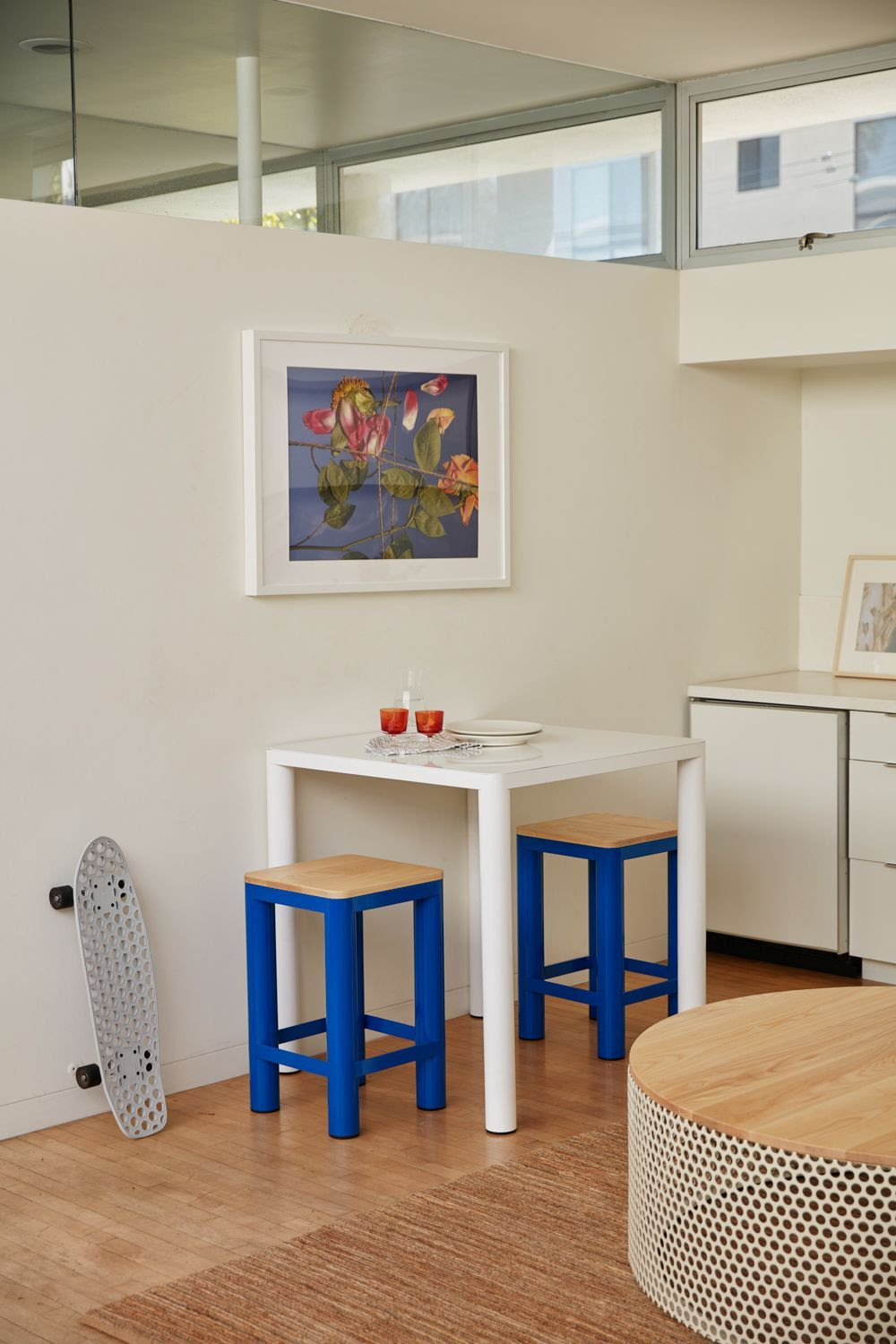 Ozzie Smith's
 golden gloves are as plentiful as RAD's cafe table options. This brand knows how to steal your heart! (And first base.)
With an eye for simple design and clean lines, this small business won't be small for much longer. Especially when you add in their philosophy around materials, sustainability, and commitment to manufacturing locally. RAD has every piece of furniture you could ever want made from steel. GOLDEN GLOVE indeed!
Plenty of teams shift their infields these days, but no one shifts like Shift.
Shift is actually called Shiftmakes, and was founded in 2009 by Tim and Mario of Shiftspace, as a response to a need for furniture that could easily fit into outdoor, landscaped environments. 
Shift is your go-to for their epic Rambler Picnic Tables and planters - all of which can go indoors or outdoors. 
Rounding out the furniture lineup is veteran pitching STAR Sun at Six. Sun at Six was dreamed up and founded by Chinese-American designer Antares Yee. Quality, sustainable furniture has been a priority from the beginning – a positive side-effect of growing up surrounded by furniture design and production. 
Sun at Six furniture is manufactured using traditional Chinese joinery and sustainably sourced materials in a Chinese factory that is one of the greenest in the world. Their collection has grown to include upholstered pieces like the Temi Lounge Chair, pictured above. 
Up on deck: lighting and accessory brands!